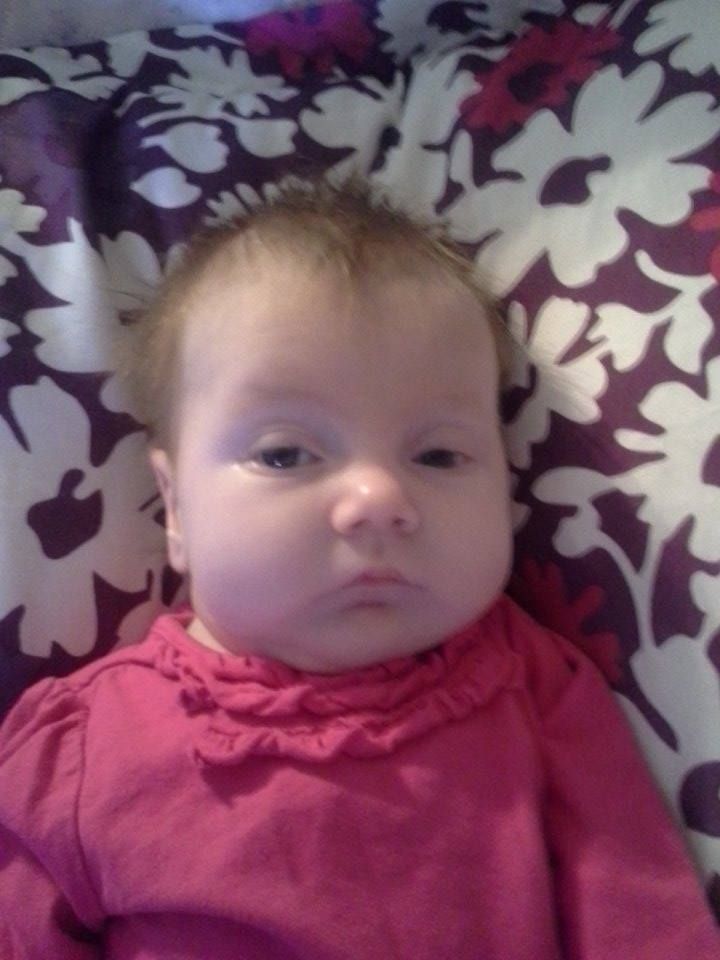 This is an interview with Mary Gross of Junction City, Kentucky about her infant daughter, Savannah. I apologize in advance for the wide breaks between paragraphs. It is a HTML coding glitch that I'm trying to work out. Since we have a medical cannabis bill pending in Frankfort, I figure it is more important to get these stories about sick Kentucky kids out than to worry about them looking perfect on the screen. In the meantime, be sure to scroll all the way down so you see everything.
Suzanne:
Mary, tell us about your infant daughter Savannah.
Mary:
Her full name is Savannah Lynn Piscatelli. She was born in November full term. She had a cleft palate and a club foot but other than that was declared healthy. She spent the first four days of her life in Neo-natal Intensive Care Unit learning to eat with the cleft. Once that was accomplished they sent us home.
She seemed fine at that time but the next day I noticed her doing something strange. It looked like a sneeze but it was different. I called to make an appointment at her pediatrician but they told me she needed to go to the emergency room right away. They believed it was infantile spasms and said she would have to go to the University of Kentucky hospital in Lexington. We spent two weeks at UK. After two video EEGs, numerous blood and urine tests, an MRI, and a spinal tap we were given the devastating news that our baby was indeed having infantile spasms, which are a type of seizure. They said she has Ohtahara Syndrome. After looking it up online we were heartbroken: a life expectancy of two years in 50% of children and the other 50% would suffer multiple seizure types throughout their lives, which are practically uncontrollable so they would have extreme developmental delays.
The University of Kentucky Hospital had never seen this before and had no experience with Ohtahara.
They tried a few anti seizure meds at the hospital with no success. Eventually they found a concoction of pharmaceuticals that took her 200-300 spasms a day down to about 75-100. They said it would be a trial and error of meds that will ultimately stop working anyway. We heard from her neurologist after about three weeks at home. He asked us if we would rather try ACTH shots, which are painful and would compromise her immune system in the middle of flu season, or try Sabril, which would more than likely damage her vision permanently. Neither of these were guaranteed to work. It was the hardest decision I have ever had to make with one of my children. It took several sleepless nights before we decided to go with Sabril because the flu would kill her for sure if she got it. The Sabril has reduced her seizures down to about ten a day but she is also is on two other anti seizure meds, as well as a supplement to try to combat the vision loss. She must see an eye doctor every three months but they won't know if her vision is being affected until she is much older and by that time it will be to late.
She sleeps most of the day due to the drowsiness caused by all of her meds.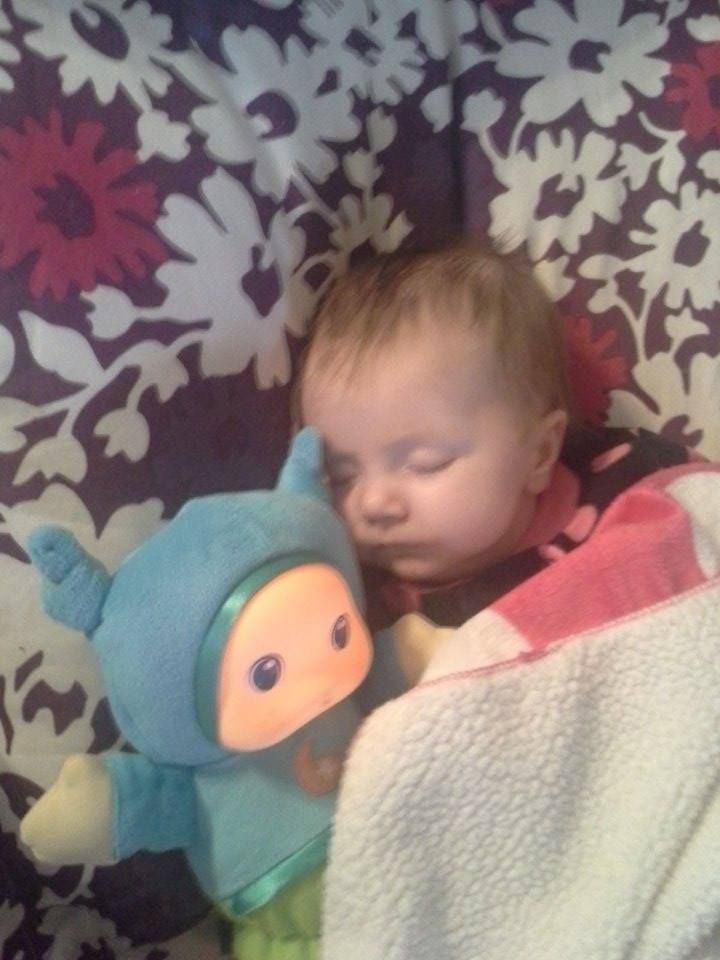 Suzanne:
Oh, Mary. I can't even imagine. I'm so sorry. I pray we can pull off a miracle and get CBD oil in Kentucky soon so your daughter's health has a chance to improve. Why do you think CBD oil might help Savannah?
Mary:
The CBD oil has proven to reduce our even eliminate seizures in some cases. It has proven to promote brain cell growth. I have done my research and the two leading causes of death in ohtahara children are chest infections (which I can help prevent by keeping Savannah safe in her home away from people who are sick and keeping my home sanitized, as well as monitor her feeding to prevent aspiration pneumonia) and the other is SUDEP (Sudden Unexpected Death in Epilepsy). I have no control over that beyond finding a way to decrease or eliminate her seizures (which, as previously stated, is being done by CBD oil).
These children also suffer severe developmental delays. Some of it is caused by the syndrome itself, but the seizures also play a very big part in that. Her seizures are near uncontrollable with pharmaceuticals. If we are able to find a medication that stops the kind of seizure she is having it will just transform into another type of seizure. The medications the doctors give her are only temporary solutions if they can find a solution at all. Those medications will have to be changed often and dosages adjusted frequently. Each of those carry their own horrible side effect that will slowly tear down her little body and increase her developmental delays.
The oil is one treatment; no bad side effects! This syndrome also causes limb stiffness which makes it almost impossible to walk. The THC (low and non psychoactive) in the oil would work as a muscle relaxant to combat the stiffness. While she will never fall into her age category for development, with CBD she could learn to walk, to talk, to understand! Without the oil she doesn't stand a chance for any of that. She will be in a wheelchair, lost in a cloud of brain deterioration. It will be over my dead body that happens without a fight. I will leave this state with resentment and go to a state that has compassion and wants to see my daughter and so many others thrive. I would go to hell and back for her if that's what I had to do.
This place (Kentucky) I have loved for my thirty-three years, the place my parents and their parents called home: to turn their back on my baby and deny her this would be a complete disgrace in every sense of the word. And quite frankly, it pisses me off that I would have to fight and beg and plead for this. I have been loyal to Kentucky and it's about damn time it be loyal to me! I'm sorry for the language. This is just so ridiculous to me that there is even a question as to whether or not this should be available. It's a no brainer. It's the greed that makes this an issue for politicians. No real justification from them. And while they pay their little games, our children are suffering and dying. It breaks my heart every day and makes me want to run from this place as fast as I can to a place that offers hope for tomorrow. A place like Colorado. I'm so scared to make this move. It takes me completely out of my comfort zone. I'm a simple country girl who can count the times I've left this state for anything on one hand. I so badly wish it didn't have to be this way.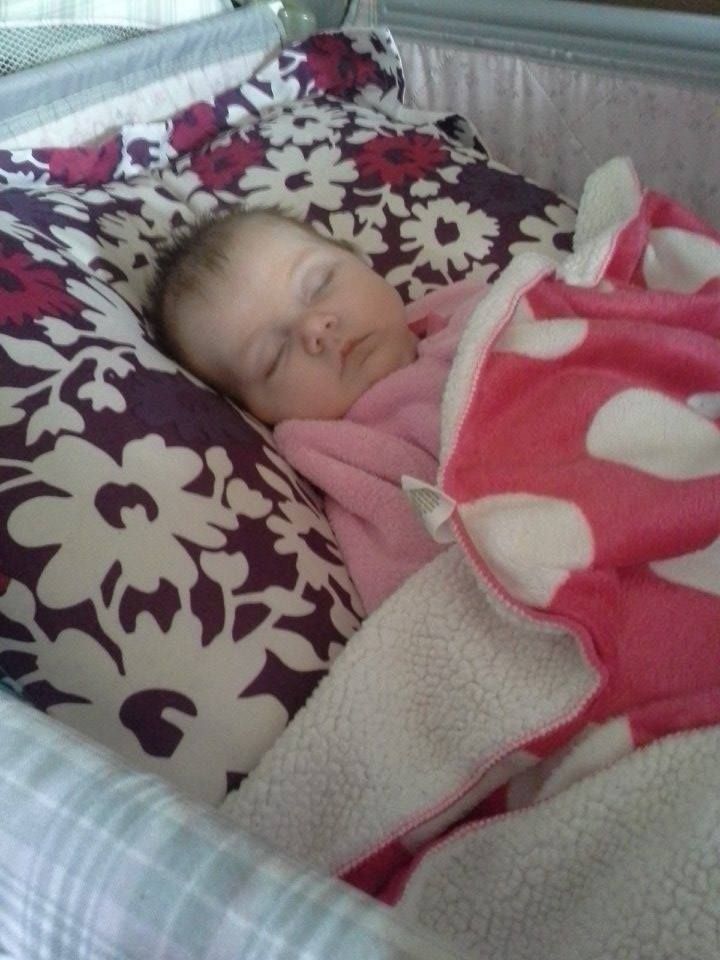 Suzanne:
I know. It is ridiculous. As I write this my son is thrashing about in pain. But if I go comfort him that makes things worse so I just wait it out, tell him it will be okay, and hope it ends quickly. This is our lives and it does not have to be this way. There are children with my son's same conditions in Colorado who no longer live like this. They thrive now.
It is often said that Kentucky is last in everything. I wonder if sometimes that is because we refuse to make key choices at opportune times. By the time we do eventually make those choices everyone else is already out ahead of us. With that said, I'm madly in love with this place. I always say I may not have been born here but I will die here. I just want us to get with the 21st century on this important issue that concerns sick children and adults.
So what is the plan as of today: is your family definitely moving to Colorado or will you wait out the legislative session to see what happens?
Mary:
My plan right now is to go to Colorado and establish residency, see doctors, and apply for the red card when I get my income taxes back in about a month or so. It is going to be so costly I just can't afford to do it right now. While I wait for the red card and for our name to come up on the Charlotte's Web waiting list I will come back to Kentucky. Once it is available, I will be going up with Savannah and my three year old daughter, Abigail Piscatelli. My boyfriend, their father, John Piscatelli, will have to stay in Kentucky to work. He has been at his job for over ten years and holds a pretty high position with them. He will support us while we are there and come visit when we can afford that trip. We will do that for a few months as we go through a trial of the CBD Oil. If all goes well John will relocate with us and Colorado will become our home until Kentucky has access to oil.
I dread splitting my family up. We have never been apart and my girls love their daddy very much. I know this is going to be very hard for them, especially Abby. She is a daddy's girl if there ever was one! I have faith that Kentucky will legalize, but I don't have faith that they will really get to work on it and make it accessible to us quickly. Time is of the essence. I'm afraid it could take a year or more to actually have things up and running if the bill does pass. With a life expectancy of only two years, waiting around to see is not really an option for us.
Suzanne:
Another family having to split up to get their child what she needs. It is the same story we hear time and time again and yet my ears never get used to it. It is still as shocking to me reading your words as it was when I read those first news reports of parents moving to Colorado so their kids could get the oil. I promise you; we will not stop fighting in Kentucky until all children who need this can legally get the oil here. We will not stop until your family, The Byrds, and the nine other Kentucky families in Colorado can come home.
Is there anything you would like the state legislature to know? We have stated our case; now the ball is in their court.
Mary:
I would just like them to know that this issue has been put on the back burner too long. We must make change for the well being of the residents of this great state. We are the people they represent and the people say legalize! Don't make us suffer any more. Don't make us leave our homes. Sooner or later the fact that people are fleeing will catch up to Kentucky. This state needs its people. Its believers. Its supporters. So the time has come for politicians to be the believers and the supporters instead of sitting back and watching us go without even a fight.

Mary's Interview With CN2 Louisville At The CBD Oil Senate Committee Hearing On January 15, 2014